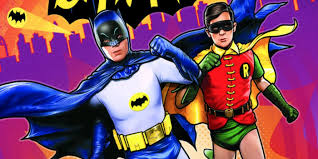 Batman: Return of the Caped Crusaders is the light hearted comedically toned Batman from the Batman live action TV show of the 60s but animated! Adam West, Burt Ward, and Julie Newmar reprise their roles as Batman, Robin, and Catwoman from the classic TV series. The Joker, Penguin, and the Riddler join the fray as well, all voiced excellently by Jeff Bergman, William Salyers, and Wally Wingert.
I won't spoil the plot but it's a fun yarn that would have fit in as an excellent two-part arc back in the live action days. Of course the advantage of animation is there isn't any limitations to the wild scenes and locales the writers and animators dream up.
I wholeheartedly recommend Batman: Return of the Caped Crusaders to all ages. Check it out now on DVD, Blu-ray, and digital.
Can't get enough 1960s Batman? Never fear! William Shatner will be involved in the 2017 sequel as Two-Face!